After taking delivery of its four Boeing 737 MAX 8, the Dominican Republic's first low-cost carrier revealed that it will have 13 destinations in 9 countries in the initial phase, with frequencies of two to five flights per week and prices ranging from US$54 to US$140 per leg.
Barranquilla (BAQ), Colombia, will be the first destination, to be inaugurated on September 15, with flight DM 3010 departing at 06:30 (local time) from Santo Domingo (SDQ) and arriving at BAQ at 07:10 (local time). The second destination will be Cali (CLO), with flight DM 3230 departing from the Dominican capital at 18:20 to arrive in the city of Valle del Cauca at 20:05.
All destinations will depart from Las Americas International Airport (SDQ), which serves Santo Domingo:
It should be noted that, after more than a decade, the Dominican Republic will once again be connected to El Salvador, Costa Rica and Guatemala, and Monterrey and Cancun will be two other new destinations for the Caribbean country.
The other destinations have at least one direct competitor. St. Maarten will be the most challenging since there are three regional companies competing: Air Century, Sky High and Winair.
In a second stage, the company will add Montreal (YUL) and Toronto (YYZ) in Canada; Kingston (KIN) in Jamaica; Quito (UIO) and Guayaquil (GYE) in Ecuador; and Medellin/Rionegro (MDE) and Bogota (BOG) in Colombia.
Arajet's CEO Victor Pacheco, in the presence of his excellency the Dominican Republican's Minister of Tourism, David Collado, stated the airline's launch marks the rebirth of Dominican aviation, projecting to transporting over 7 million guests per year in approximately 5 years.
"We promised low fares and we are announcing our trade mark low fares never seen before in our country," said Mr. Pacheco. "This is the first step in the process to build the first strategic connecting hub in the Caribbean that will foster the Americas connectivity at the lowest fares. Additionally, starting in September we are kicking-off our mission to convert Las Americas International Airport into a premier Latin-American Air Hub," he added.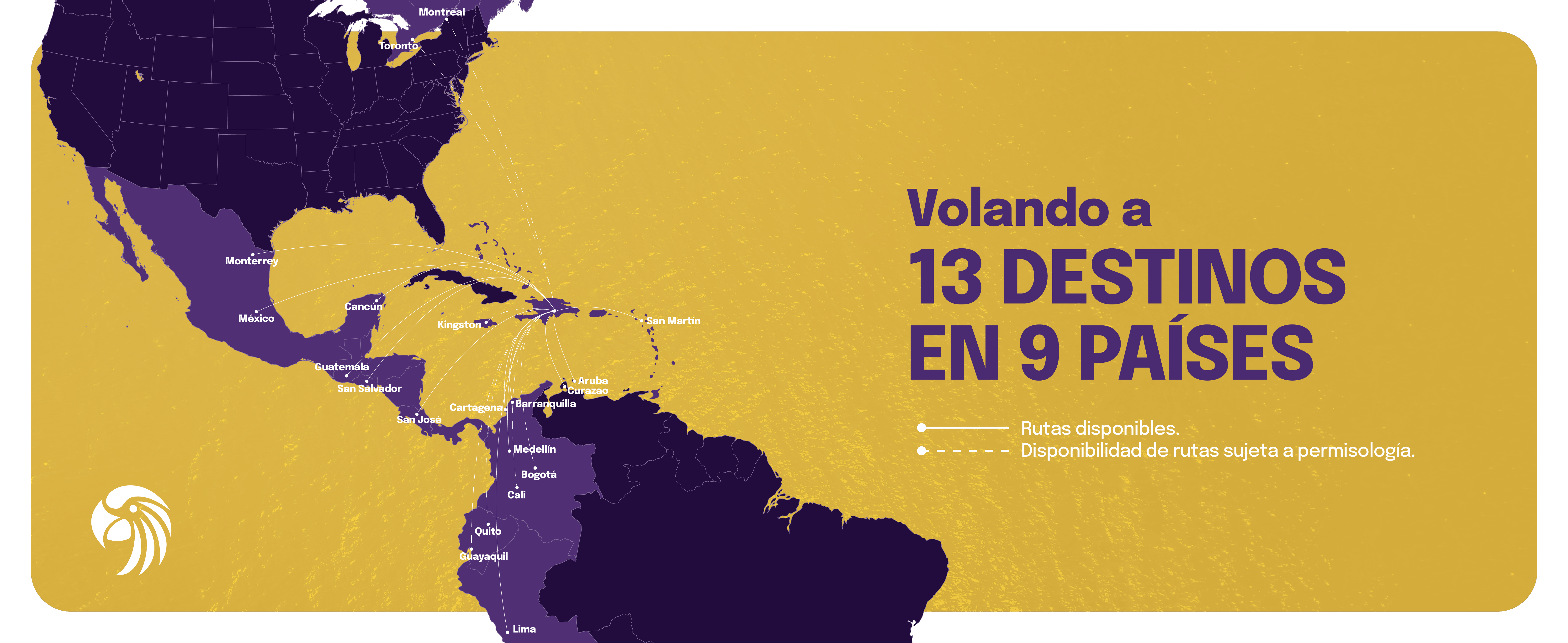 Arajet's additional services
Being a low cost company, Arajet subdivided its offer into three fare models:
Smart: (price shown in the table), includes online check-in and one backpack/bag/personal bag.
Comfort: includes online check-in, one backpack/purse/personal bag, 20kg checked baggage, seat selection and flight change without penalty.
Extra: includes online check-in, one backpack/purse/personal bag, 20kg checked baggage, 12kg carry-on baggage, seat selection, priority access and three flight changes without penalty.
In case of adding personal items or selecting seats, the prices at the time of booking will be:
Preferential seats: USD 61
Front row seats: USD 25
Emergency Exit Seats: USD 25.
Middle and rear seats: USD 11-15.
Carry-on baggage of 12kg: USD 39.99.
Hold baggage of 20kg: USD 24.99 one bag, USD 69.98 two bags or USD 149.97 three bags.
Priority boarding: USD 8.99.
Airport check-in: USD 4.99.
Special baggage: sports equipment, golf, fishing and diving equipment properly packed, bowling, skis and others: USD 49.99.
Carrying a pet: USD 69.99.
Bringing a pet for emotional support and/or assistance: Free of charge. You must present documentation accredited by a physician, justifying why you must travel with the emotional support or assistance animal; the certificate must include the stamp and signature of said professional and must not be more than one year old before the date of the flight.
After confirmation of the reservation, the prices will be increased for each additional included in the ticket:
Brief history of Arajet
Born as DW Dominican Wings in 2014, the company operated several charter flights with Avion Express Airbus A320 aircraft under wet leasing. In 2018 it changed its corporate name to Flycana, maintaining DW Dominican Wings' air operator certificate, to transform itself into an ultra low-cost.
In 2020 a new airline emerged: SkyCana. In order not to cause confusion in the market, Flycana was forced to change its name to Arajet. In March, Arajet had also surprised by announcing an order for up to 35 Boeing 737-8200s, the high-density version of the 210-passenger MAX 8, the first American airline to do so.
The company's intention is to establish a continental hub in Santo Domingo to serve as a counterweight to Copa Airlines' hub in Panama and Viva's incipient hub in Medellín.
A fifth MAX is expected to arrive shortly as part of an agreement with Griffin Global Asset Management. In June, it had requested authorization for 23 initial destinations, out of a total of 116 routes requested from the Dominican Civil Aviation Board.
The low-cost carrier is expected to generate more than 4,000 direct jobs and some 40,000 indirect jobs over the next five years. In addition, they plan to transport 7 million passengers per year, making it the largest company in the history of the Dominican Republic.